Following on from my earlier experiment with Griffon, I thought I'd have a play with a few more plugins.
First ribbon to hang around the Griffon's tail was the CodeNarc Groovy-oriented static analysis plugin.
Installation was a little rough: the usual magic invocation:
griffon install-plugin codenarc
didn't work. I had to download the plugins's zip by hand and install it as:
griffon install-plugin griffon-codenarc-0.1.zip
Once that minor hurdle was overcome, however, it was a smooth as silk!
Running:
griffon codenarc
produced a simple report called "CodeNarcAntReport.html" in the project's root directory: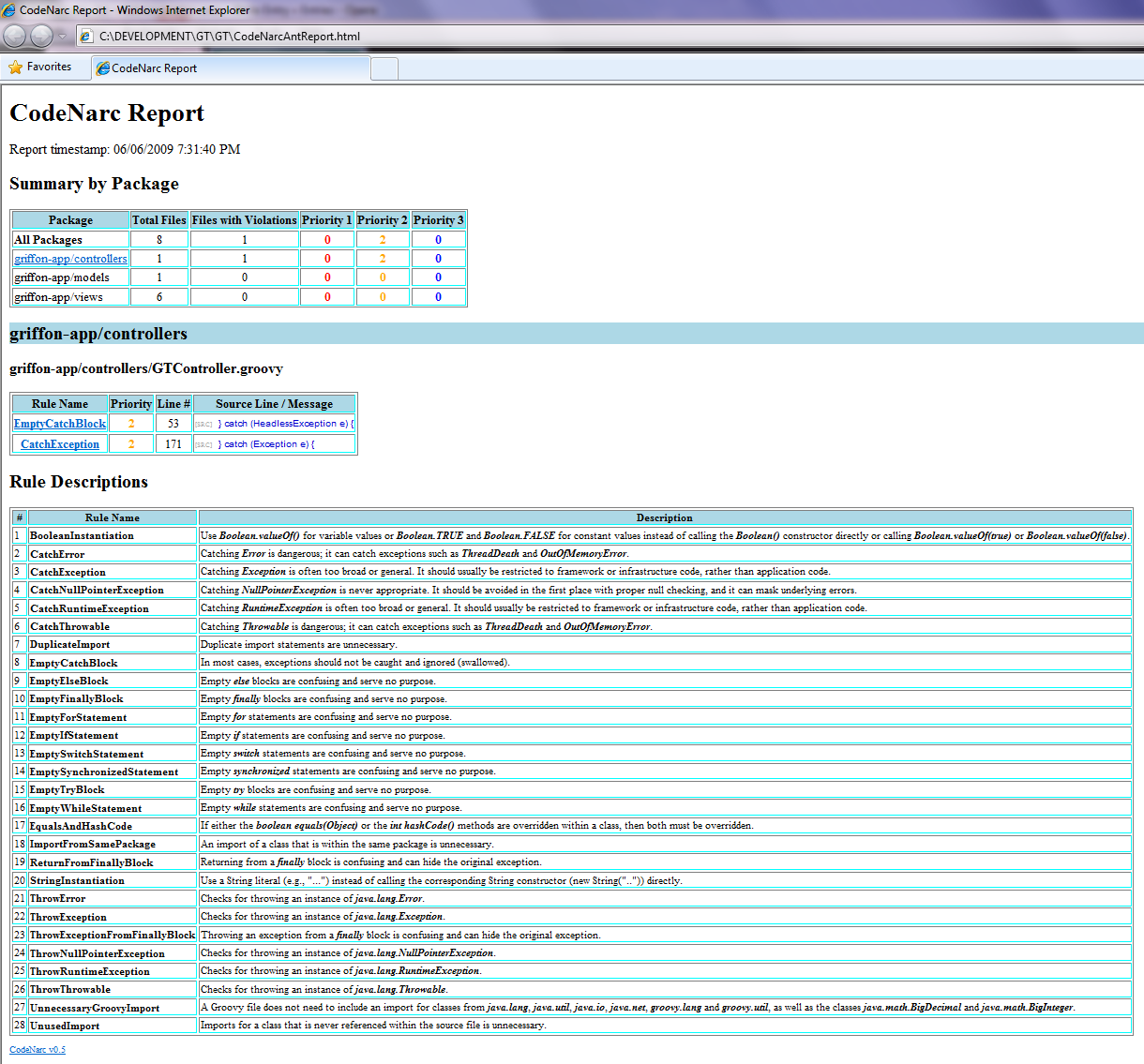 The code looks pretty good…a few "no-no's" there, but otherwise things are OK.
Although I didn't change any options for this little investigation, it's worthwhile noting that the plugin is configurable through a number of entries in griffon-app/conf/Config.groovy.
The second ribbon to adorn my increasingly-beautiful Griffon was the splashscreen plugin.
This time, installation went brainlessly well:
griffon install-plugin splash
The plugin adds a couple of lines of code to griffon-app/lifecycle/Initialize.groovy:
def splashScreen = SplashScreen.getInstance()

// Setting a splash image
//URL url = this.class.getResource("mySplash.jpg")
//splashScreen.setImage(url)
//
// Setting Status Text
// SplashScreen.getInstance().showStatus("Initializing the Controller")
splashScreen.splash()
splashScreen.waitForSplash()
It's pretty clear how this works, 'nuff said?
It's pretty early days for Griffon, so there isn't (yet) an extensive list of plugins. It's a great facility, though and I am sure that people will bring more to the table as time goes by.
My Griffon's a bit more beautiful now. What bells and whistles are you going to add to yours?