DonationWare!
I am opening up old courseware to the world on a "pay if you like it" or have it free basis.
My third offering is Developing with JavaScript Technologies.
(You will find other offerings in this site's DonationWare Category.)
This course was created in mid-2002.
It was created for ASERT but never actually saw the light of day…isn't that sad!
This was after the dot-com bubble had burst and the ultimately commissioning organisation probably went bust or lost interest or something…I can't remember now!
The course was pitched at people who wanted a very quick overview of what was then a 'warm', upcoming topic. I tried to show JavaScript in a good light, not just as an adjunct to a browser. This was before Jesse James Garrett thought of the term AJAX (reputedly while in the shower)!
There was plenty of hands-on time. There are quite a few small and simple exercises.
Here's the 'blurb':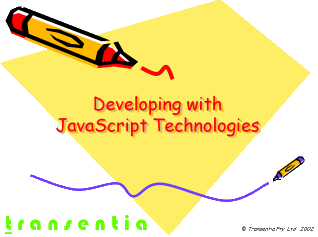 About The Course
This is an intensive two-day course designed to provide attendees with sufficient knowledge to incorporate JavaScript into their toolbox of useful technologies. The course is aimed at developers who want to apply JavaScript to their browser-based projects, and also for those who need to know how the language and its environment is developing to be applicable in a more widespread context.
Who Should Attend
Basic programming experience using a modern programming language such as C, C++, Visual Basic, or Java is required. A rudimentary understanding of object oriented concepts is also useful.
Participants should also be familiar with, and be able to construct basic web pages using 'raw' HTML, rather than via higher-level tools such as Macromedia Dreamweaver or Microsoft FrontPage.
Objectives
This course will provide participants with the ability to:
Understand the history, purpose and utility of JavaScript as a web technology
Become familiar with the features of the JavaScript language
Know how when and where to use JavaScript most effectively
Form a perspective on industry support and future issues related to the development of JavaScript
Develop more capable web-based applications using this inexpensive technology option
Use JavaScript outside of its traditional browser-based confines
Please note: this course is not intended to be a "JavaScript How-To" and does not focus purely on using JavaScript as a technology integrated into a web browser.
Topics
The following key topics will be covered over the two day period:
Introduction to JavaScript (including an overview of concepts, industry standards, the purpose of the language, comparisons with other similar technologies, multi-tiered and thin client applications, etc.)
JavaScript and the various browser environments (including the browser object/instance model, event handling, etc.)
JavaScript techniques (including form validation, graphics, localisation, security, etc.)
Integrating JavaScript with other technologies such as Java, various W3C recommendations, and the Windows Scripting Host
Industry support (including browser support, development tools and products, versioning, etc.)
The course includes a number of practical exercises and case studies designed to highlight the features and application of JavaScript in a variety of situations.
The course is now well and truly at End of Life.
I figure that it would be such a pity for it to end as a set of bits decaying away on my hard disk so I am opening it up to the world on as "as-is" basis:
Developing-with-JavaScript-Technologies-Courseware-DonationWare.3.July.2009.zip
(MD5: 3922b66caca1dfda0a0b23c532a68b4d; size: 4,523,559 bytes)
Some (unfortunately necessary) legalese:
This content is provided "as-is", with no guarantees.
Feel free to use it, but not to abuse it (to give a couple of examples: don't make hundreds of copies for friends; don't claim it as your own work).
I retain copyright, so "all rights reserved."
Enjoy!
If you like it, or have any questions/comments, send me an email ( ).
If you find this material useful, please consider paying me a small amount:
via PayPal.